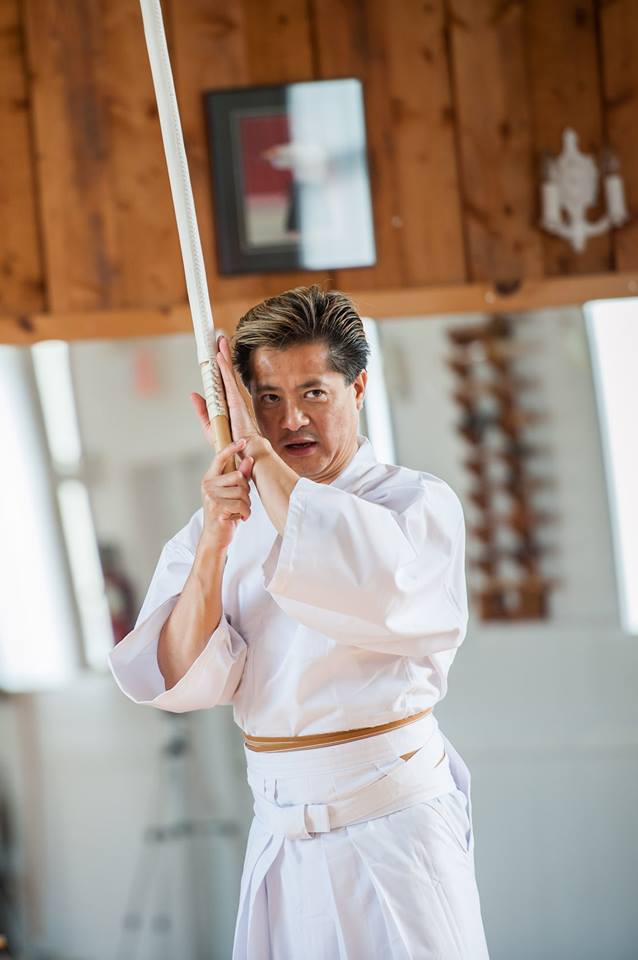 Our founder is Mr. Douglas Tong. He has been teaching kenjutsu (classical Japanese swordsmanship) since his return to Canada in 1994.
Mr. Tong lived in Japan for many years and studied Japanese swordsmanship exclusively under some of the great masters:
Katori Shinto Ryu under the late Master Yoshio Sugino in Kawasaki-shi.
Mr. Tong learned the legendary style Katori Shinto Ryu (the Way of the War God of Katori) under the direct tutelage of the acclaimed Master Yoshio Sugino, who was the swordfight choreographer for Director Akira Kurosawa's two most famous samurai films, Seven Samurai and Yojimbo. Mr. Tong was one of Yoshio Sugino Sensei's last direct pupils. Mr. Tong was the first to introduce the style to Canada in 1994, and was the driving force in the growth of Katori Shinto Ryu in the province of Ontario. Schools in Katori Shinto Ryu have now proliferated throughout Ontario and Quebec. Mr. Tong's former students, Dennis Wiens and Corey Reid, are ranked practitioners of Sugino-style Katori Shinto Ryu under the current headmaster and run their own dojos in Southern Ontario. While he does not publicly teach Katori Shinto Ryu anymore, Mr. Tong is one of the last remaining adepts in the world today of the Yoshio Sugino-style of swordsmanship, a fluid and highly-sophisticated brand of swordplay from a more refined, bygone era.
Ono-ha Itto Ryu under Master Takemi Sasamori in Setagaya-ku, Tokyo.
Mr. Tong studied the style of Ono-ha Itto Ryu (the famous One-Sword style) under the direct instruction of Master Takemi Sasamori and his son-in-law at Reigakudo for a few years. Master Sasamori's generosity allowed Mr. Tong the unique opportunity to study this renowned style through private one-on-one lessons with only the teacher and himself and developed in him a great appreciation for the beauty of this art.
Muso Shinden Eishin Ryu iaido under Master Toshihiko Izawa in Fujisawa-shi.
Mr. Tong studied the beautiful art of Muso Shinden Eishin Ryu iaido (the art of the draw and cut) as a direct student of Master Toshihiko Izawa (7th dan kendo, 7th dan iaido). Mr. Tong has a nidan (2nd dan) in iaido (Zen Nippon Kendo Renmei – All Japan Kendo Federation). He was tested at the Kanagawa Prefectural Gradings in Yokohama. Being fortunate to be a member of a small class of only 4 students, Mr. Tong received very personalized instruction for many years directly from Izawa Sensei.
Yagyu Shinkage Ryu (Ohtsubo Branch) under the late Master Masao Mutoh in Zushi-shi.
Mr. Tong began his study of Yagyu Shinkage Ryu (the New Shadow style of the Yagyu) under the late Master Masao Mutoh, the 10th soke of Yagyu Shingan Ryu Taijutsu (Edo-Line) and 2nd headmaster of the Ohtsubo Branch of the Owari Line of Yagyu Shinkage Ryu. Through his kindness, Mr. Tong was allowed the rare chance to study and research this most prestigious of Japanese sword styles.
He now continues his studies under Mutoh Sensei's successor, Master Yasushi Kajitsuka, the 11th soke of Yagyu Shingan Ryu Taijutsu (Edo-Line) and 3rd headmaster of the Ohtsubo Branch of the Owari Line of Yagyu Shinkage Ryu. Mr. Tong is the leader of the official study group (keiko-kai) for Yagyu Shinkage Ryu (Ohtsubo Branch) in Canada under Master Kajitsuka.
Like his teachers before him, Mr. Tong continues to train and study, to deepen his understanding of the Way of the Sword. From his apprenticeship in Japan and over 27 years of study and research, Mr. Tong brings a comprehensive and authoritative knowledge of the ancient art of classical Japanese sword fighting.
Mr. Tong was interviewed by the CBC, Canada's national network, in a gorgeous documentary on high-level but little-known martial arts teachers teaching reclusively somewhere in the Greater Toronto Metropolitan Area. Please watch it. It is a beautiful interview.
In terms of being actively involved in the community, Mr. Tong teaches classes and conducts seminars in kenjutsu at various dojos in the Greater Toronto Area (GTA). He also runs workshops at martial arts expos like MMA Expo and at fan conventions such as Anime North, and he runs special programs in Japanese swordsmanship for organizations such as Rapier Wit Stage Combat School. Mr. Tong is also involved with the Japanese community in Toronto, serving for years as one of the assistant kendo instructors at the Nikka Gakuen Kendo Club, as well as volunteering and helping out at the Nikka Gakuen Japanese School.
In his professional life, Mr. Tong has a Master's Degree in Education. He taught overseas for many years in Japan. When he returned to Canada, he was employed as a lecturer and course instructor in the Department of Applied Linguistics at Brock University. Offered the opportunity to pursue doctoral studies (Ph.D.) by the Ontario Institute for Studies in Education (OISE) at the University of Toronto, he declined in order to pursue his passion and his true calling: mastering the art of teaching real students in real classrooms and making a real difference in their lives rather than following a more detached life of research and academia. He is currently a public schoolteacher with the Peel District School Board, the second largest school board in Canada. An experienced Master Teacher, Mr. Tong has served for years as an Associate Teacher for many Teacher-Candidates (interns), mentoring and instructing young teachers who are just entering the profession. Mr. Tong is also dedicated to making a difference in the schools that he works in, serving in various administrative committees to do with staffing, culture and climate, and leadership. He is furthermore dedicated to improving the lives of the teachers he works with. Serving as Union Steward at his school, he safeguards the rights of, mediates for, and counsels teachers. Finally, Mr. Tong is a member of the Ontario College of Teachers in good standing.
Mr. Tong lives with his wife Tazuko and their two sons in the Greater Toronto Area.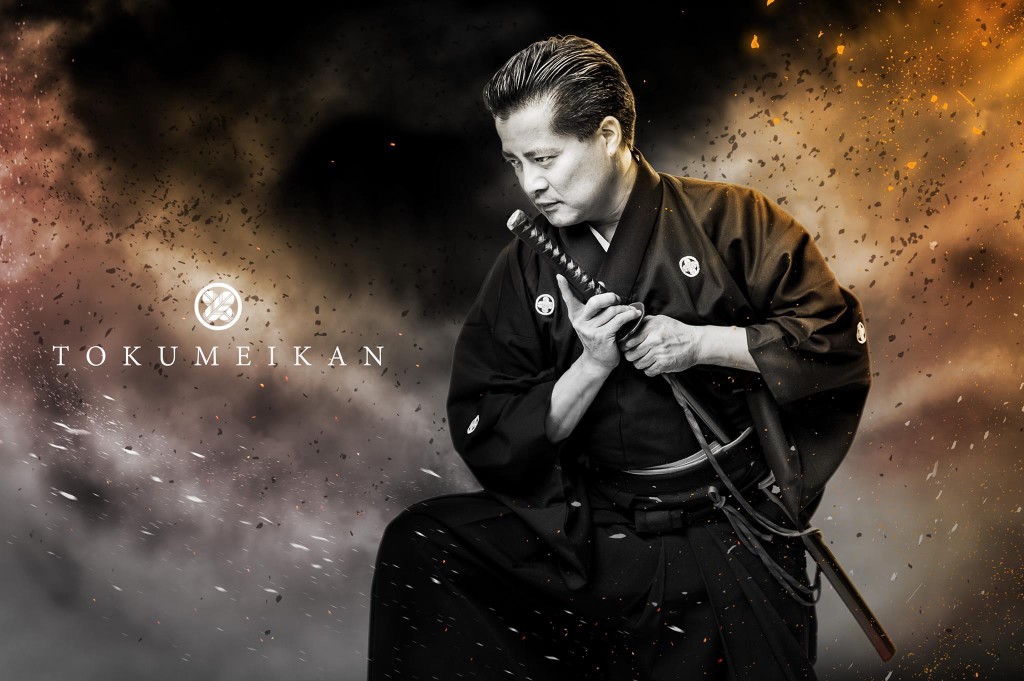 __________________________________________________
What is Mr. Tong's favourite quote?
My favourite quote comes from my master, Kajitsuka Sensei. He said:
"Budo is like climbing a mountain. Everyone is climbing up the same mountain. We are all mountain climbers in the same group. I am just farther up the mountain than you. But, I am not a guide telling you where you should go. I have seen the path that you will take. So, I can point out some of the pitfalls that I have already encountered on my journey up this mountain. However, you must realize that I am still myself going up this mountain…"
That's humility. And the spirit of budo.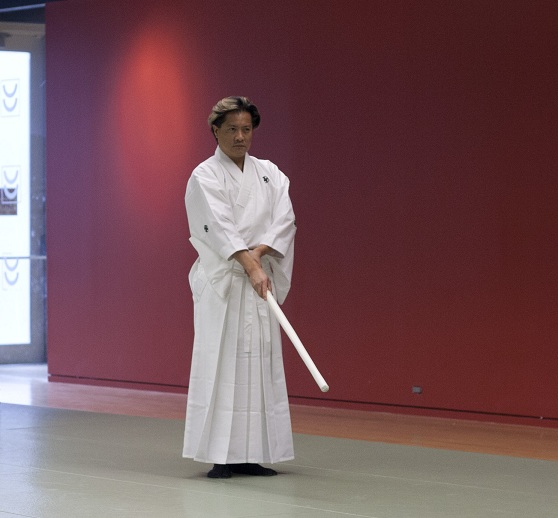 * Mr. Tong is pictured here in "mu-gamae" (literally "no-stance" or "empty stance"), the stance of no-stance. The quintessential stance of Yagyu Shinkage Ryu, it is a stance and not a stance; a paradox. It is a mindset and a principle. Emptiness is an important concept in Zen Buddhism, found in such famous Zen aphorisms as "munen muso" (no thought, no reflection). Breaking free from the bonds of limited action and limited thinking found in earlier styles of swordsmanship, epitomized by their heavy reliance on kamae (stances, positions), mugamae is true freedom: freedom of action, freedom from being fixed or stuck. A living sword, like a living animal, has freedom of action and freedom of purpose. We can move freely, spontaneously, flowing and adapting to the moment. Like the Zen Master Takuan Soho taught Yagyu Munenori, "it is like a ball in a swift-moving current: we respect the mind that flows on like this and does not stop for an instant in any place." Mu-gamae is the perfect embodiment of the philosophy of Yagyu Shinkage Ryu, the consummate coalescense of thought and action.